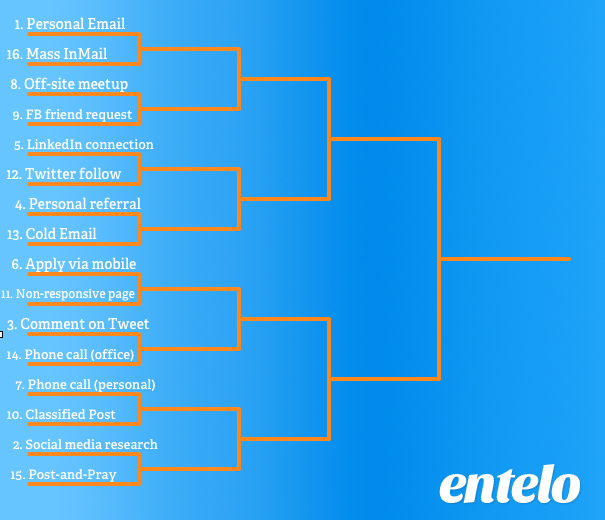 It's that mad time of the year again! By now, you've done your research, crunched the numbers, or gone with your gut, and you've submitted your pool-winning bracket. Luckily, though, there's still time to work on your Recruiter Madness bracket. This year, 16 of the most popular recruiting methods are going toe-to-toe in a win-or-go-home tournament. Have a look at the final bracket and read the breakdown of the matchups below!
1. Personal Email vs. 16. Mass InMail
No 16 seed has ever beat a 1 seed, and nobody is calling for Mass InMails to be the first to pull off the big upset. The fact that candidates' preferred channel to hear about opportunities is email, coupled with data that over 70% of InMails go unread, means this should be a smooth and by-the-numbers win for Emails. Expect the 1 seed to go up big early and cruise to the second round.
8. Off-site Meetups vs. 9. Facebook Friend Request
The perpetually underrated Off-site Meetups have a friendly first round matchup with Facebook Friend Requests. While Facebook can be a good way to get on a candidate's radar, it can be unwittingly creepy to friend someone who you don't actually know or have any connection with. Off-site meetups, on the other hand, are a great way to let candidates meet your team, and assess them from a cultural standpoint as they may switch off of interview mode once they leave the office. The social media behemoth should never be ignored, but it's hard to believe a simple friend request can bring more to the floor than a social recruiting event.
5. LinkedIn Connection vs. 12. Twitter Follow
The always tricky 5 vs 12 matchup usually carries prime upset potential, and as these two social media connection options go head-to-head, the trend continues. Connecting on LinkedIn will afford you more information on the candidate's background, and possibly make them more amenable to your messaging. Often, this is the first step in establishing a professional relationship with talent. On the other hand, following on Twitter is a lightweight, unassuming, easy way to gain some visibility and begin connecting with them slowly over time, about issues they care about. This one could prove too tough to call, but I wouldn't be surprised to see the Connections slip up and give ground to one of the simplest yet long-term means of interaction. Give the edge to the Follows.
4. Personal Referral vs. 13. Cold Email
Here's an easy pick. Looking to alienate candidates, get marked as spam, and leave a bitter taste in the mouths of top talent? Then feel free to keep jacking up low-percentage shots in the form of Cold Emails. The Personal Referral is a warm introduction and carries the seriousness and credibility of the person who's done the referring. The Personal Referrals are always dangerous and will be pleased with their 4 seed, so don't be surprised to see these guys make a run.
6. Apply via Mobile vs. 11. Non-Responsive Careers Page
I'm going to go ahead and ask the question on every recruiter's mind: how did the Non-Responsive Careers Page even make it into the tournament? And pull off an 11 seed at that? All year, they've been frustrating talent with poor user experience, putting desktop pages on tablets and phones, and making it more and more difficult to apply. Applying via Mobile has been their nemesis since the internet came to phones, as we continue to see the rise of mobile browsing and job seeking. Look out recruiters, this one could get ugly.
3. Comment on Tweet vs. 14. Office Line Phone Call
Office Line Phone Calls simply won't go away. They happened to make their way into the big dance, but they're going to be pushed to the limit by the sleek, efficient, nothing-to-lose microblogging activity. Calling candidates on their office phone can be awkward--especially if you have to identify yourself to navigate through their phone system-- and bear in mind that candidates typically aren't interested in hearing about another opportunity while they are on the clock. Twitter replies afford a much simpler means of outreach, and as long as your comments are relevant and not too frequent, you really can do no wrong. I fully expect Twitter Comments to have some staying power in this year's tourny.
7. Personal Line Phone Call vs. 10. Classified Post
Bring me a bag of peanuts and a pen-and-paper scorecard, cause this matchup is about as classic as it gets. Two age-old recruiting methods are going at it once more, and no matter who wins, so do we. The difference maker here is going to be adaptability; Personal Phone Calls have that heir of timelessness about them, coupling solid fundamentals with the potential for individual displays of unmatched skill. It's this sort of combination that leads to a dominating run, so this rough-and-tumble matchup could be just the start they need. Classifieds, on the other hand, are steadily seeing their medium replaced by modern job boards, and I fear there just isn't a place for them in the modern game. Personal Phone Calls will grind this one out and wear down the Classifieds, as the oldest recruiting method in the book just doesn't have the spark. 
2. Social Media Research vs. 15. Post-and-Pray
The modern replacement of the Classifieds won't be happy with their low seed, but truth be told, it fits their game. They're sloppy, all over the place, yet ubiquitous, and somehow they continue to find a way to attract some occasional talent. Despite their scrappy nature, they are simply outclassed by the new breed of candidate research. Talent are putting more and more information about themselves on the web, and as a recruiter, if you can get a look at their activity, you'll be able to craft hyper-personal, meaningful messaging. If you're looking to build relationships and find roles that fit people, rather than the other way around, then you might go so far as to take the SMRs all the way. Just take a look at their starting 5:
Twitter
Facebook Github LinkedIn
StackOverflow
The information on these sites alone could be enough to get your candidate in the door with the insight on your end to put them in a role that fits perfectly. From where I'm sitting, it's hard to see anyone giving these guys a game until late in the dance.
Who do you have going all the way? WIll we see a cinderella story for the ages? Any key methods get snubbed? Leave a comment or tweet @EnteloRob! Be sure to check out more of our content like this at 
blog.entelo.com
.