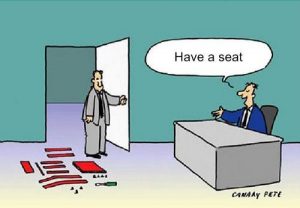 At some point of time, we have all come across this witty interview cartoon of Canary Pete where the interviewer (presumably) was seen testing the candidate's out of the box thinking ability.
But how do you spot and hire high achievers who can add supreme value to your organization? It's challenging, but not rocket science. As part of Pervenio's innovative executive search and recruitment process, we're always on the lookout for talents who strive to achieve more. To fulfill our clients' unique requirements, we employ our innovative search methodology, an empirical screening process, a streamlined approach to ensure that our valued clients get complete value for money.
Let us share a few definitive signals we take into consideration in order to screen the best from the rest:
Passion To Get Involved In Challenging Projects

While screening a candidate, it's always important to lookout for that hidden passion to accept challenges. A minute look into their past track records will reveal if the job seeker loves to accept challenges. It's quite natural that if given a chance, most team members opt to take up tasks which are more comfortable and requires less extra effort. But at times, managers seek team members who can be assigned jobs which demand a mix of passion, perseverance, innovation and creativity. That's where high achievers step in to accept the daunting challenges to explore and learn new things, turn challenges into opportunities and go that extra mile to achieve new heights.

Steep Learning Curve, Can-do Attitude, Positive Thinking Ability

Quick learners are always treated as assets in organizations globally. A few years back, I was once interviewing a SEO executive. After about 10 minutes into the interview, I asked the candidate what else can he do apart from search engine optimization? The candidate calmly replied that he can design webpages, code in PHP and has written an ebook on growth hacking! In other words, he hasn't confined himself to the boundaries of search optimization only which again is an unique personality trait of a high achiever. These professionals cultivate the belief that everything is achievable if tried with utmost dedication and a positive frame of mind.

Ardent Love To Prosper

While screening résumés of high achievers, you'll see that over the span of time, they have been gradually promoted from lower to mid-tier to higher hierarchical levels simply because they hate mediocrity. Achievers love to achieve big in life. They wish to surpass the expectations. They love to get promoted and set new benchmarks. And yes they love to ride the growth!

Achievers Aren't Job Hoppers

In this fast paced world, job hopping is a common practice. However, achievers tend to stick to long term plans instead of short term goals. Once achievers get settled down in an organization, they are less likely to immediately shuffle their job (barring unexpected circumstances). On the contrary, they'll concentrate hard on their growth to build a solid base which can propel them to achieve larger organizational and personal goals in life.

More Work, Less Politics

To achieve the pinnacle of success, achievers hate wasting their royal time in office politics, bureaucracy, etc. They love to dream big in life and accomplish their unfulfilled dreams to rise to greater heights. With their sheer passion to work hard, ability to think out of the box and overcome difficulties, they prove their worth. For them short cuts don't really matter much.
Gone are those days when companies used to hire talent only on the basis of college degrees and credit reports. Nowadays, candidates with entrepreneurial mindset, who are passionate growth hackers are given precedence simply because of their ability to achieve what others tend to ignore. Although it's an uphill task to search and hire an achiever, it's worthy of investing your time and resources in something which can guarantee you future returns!
(This blog post was originally published at Pervenio's Recruitment Blog. You may follow Pervenio at https://twitter.com/PervenioSearch or the author at https://twitter.com/ramnath)