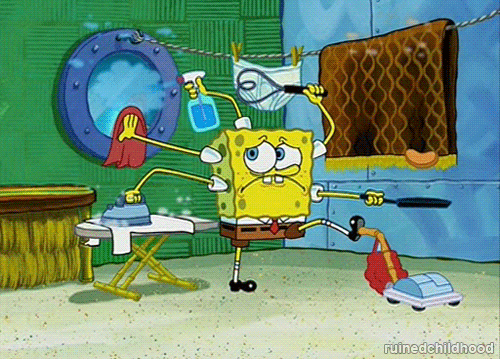 Does that sound like the hierarchy in your organization?  I hope not- because it certainly is the case with a few.
Organizations today have parted ways with the never ending hierarchical structure of executives climbing the ladder to reach the top.  Most millennial companies boast of having a flat structure, open door policy and have done away with traditional job titles for good.  They have instead reinvented new names like CFO- Chief Fun Officer, Innovation Guru and Chief Geek. 
But what happens today in many organizations is that companies are in a dilemma- caught in between the cross hair of a millennial generation that wants the flat structure with unconventional titles and a traditional organization that believes in the hierarchy-- but one that also needs to attract the millennials.  The result is crow sh*t.  Ultimately- such organizations end up having a CEO, 10 Directors and a few lads or ladies with a mop who are the only ones cleaning up the sh*t!
Many of you in the recruiting world have experienced hands-on the result of having too many managers.  Combine that with having too many irresponsible managers and too little workers who get trampled on and bossed around.  The level of incompetency, negligence is another subject altogether that sheds light on hiring practices and failures-  A page from history that almost everyone in the agency or corporate world can learn from.  So what does the anatomy of crow sh*t look like?
For one- it certainly isn't pleasant to look at- Take the few in the corporate room and all you can see is the authority that dictates leadership.  Not servant leadership mind you… dictatorship.
It stinks- Not too much… just a little. Coming around this group of leadership – the stench is mild enough that it doesn't bring out your gut- but proves to be a mild headache- but nevertheless a perennial one- and enough to bother you.
It's all over the place- True to the form of real crow sh*t- it lacks the class, dignity, and structure that these positions were meant to reign in.
It lacks diversity- It's just black and white and nothing magnificent. Diversity today is grossly misunderstood and limited to just physical characteristics.  Living up to that true gross misinterpretation- a good majority of them lack intelligence.  I dug a little deeper to understand the anatomy of such brains and Eureka- I found it.  They are void of the frontal lobe of the brain- it is a manufacturing defect folks.  The frontal lobe manages our executive functions of organization and regulation.  They lack both!
It's neither solid, liquid nor gas - There is a real lack of structure in such organizations. No I'm not talking high heels- but about process, innovation, strategic planning etc.  Would you believe it if I told you that when I commented that the documents are uploaded on the cloud ---someone in the leadership looked up to the ceiling?  No really…it did happen!
Designations in good organizations should be a reflection of caliber.  Progressive organizations must understand the value that these designations convey to the external world and the effect it has on employee morale.  So what happened to the mop you may ask?
The mop diligently continues to clean the crow sh*t-   It's a never ending cycle of cleaning the gunk and coming back to find that there's more to clean.  Rinse and Repeat….the cycle goes on.
Disclaimer:  The views, opinions and positions expressed by the author and those providing comments on these blogs are mine and theirs alone, and do not necessarily reflect the views, opinions or positions of my work place, work colleagues, friends, family, pets or anyone related to me by blood living or dead.  Any, All or a few similarities are purely coincidental ;)