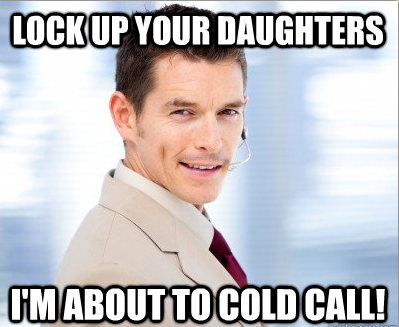 This is a fairly consistent opinion of most agency recruiters and is, for the most part, only partly true.
Unfortunately, most buyers of recruitment agency services wish it wasn't true at all.
That's not because these buyers don't like being sold to – many of them do, because buying the right stuff is part of their job and one of the ways they add value to their employer.
It's because they don't like being sold to badly.
So, when it comes to agency recruitment, was does selling badly actually look like?
It invariably looks like a trainee in their early 20's, with hardly any work/life experience (but lots of attitude and a hunger for money if the job ads are anything to go by), cold-calling companies asking if they have any jobs they need help filling.
Imagine that. A money-hungry, know-nothing youngster calling himself "a senior recruitment specialist" trying to convince you he has the answer to your hiring problem. I think most of us would rather staple our lips together than have too many of those types of phone conversations.
The trouble is, a lot of agencies see the cold-calling part of what they do as selling. Perversely, they don't call it cold-calling, they call it "business development".
Cold calling isn't business development.
Cold-calling is the act of contacting companies by phone and trying to secure jobs to work on. Jobs with very little commitment from the hiring company and that they're only going to fill 1 in 5 of, at best.
Real business development is getting more jobs from the same hiring companies with a stronger buy-in. It's about increasing the success rate with each client. The clue is in the word development.
To generate more business from a smaller number of clients involves real selling and that's how business gets developed.
There are many recruitment agencies who openly display contempt for their target client audience by allowin....
I even once had a recruiter call me after he'd seen an ad I'd run and tell me that all the respondants would, and I quote, "be useless". When I asked him how his candidates would be better than mine and what it is he does that makes them better, he put the phone down.
An ambition for money and an empty head is a dangerous combination.
Agencies allow trainees to call companies because they want each desk to generate revenue – but I believe that this is a costly mistake.
It's costly because whilst that 'money-hungry' trainee may well generate some jobs and a few fees, for every success there will be numerous other potential clients who become less inclined to ever do business with that agency after each clumsy cold-call they receive.
So, how does a trainee recruiter get the experience needed to make these calls more productive?
I would argue they need some knowledge. They can get that by spending their first 12 months in the job supporting more experienced recruiters by doing things like sourcing CVs, matching CVs to jobs, researching client leads, candidate phone screening and sitting-in on some candidate interviews and client meetings.
Trainee recruiters don't need to be money-hungry – at least not in the short term. There are many capable young people out there who have a broader range of skills than just having the gung-ho attitude necessary to make 50 cold-calls a day. And most of them would be more than happy to defer any potential commission earnings in exchange for learning the job properly before being expected to convince companies to trust them with the recruitment of their staff.
Their cost-effectiveness could then be measured by the quality of the support activity they generate, their general attitude towards learning and by the increased revenue of the experienced recruiters they're supporting.
Recruitment agencies sell an ability to fill jobs. For that to happen, their recruiters need to be capable of filling jobs at best - or at worst, producing candidates that are worthy of an interview. The more knowledge/experience they have, the more likely they're going to be able to do that.
And the more they can fill jobs at a respectable conversion rate, the more likely they're going to have something to sell at the next client contact.
The bottom line here is that by allowing inexperienced recruiters to your agency's services, you're basically building an image to your sector that you're the type of agency that doesn't care that much about your clients and are only interested in generating revenue.
I don't think that's a good image to portray.