Whether you're starting your own business, changing careers, or just going off the job grid for a bit of soul searching, your financial situation is about to change - drastically. If you've decided you have enough money tucked away to take that plunge - or you want to get to the point that you do - a tighter budget is going to be your new reality. Consider the following while embarking on your new career journey.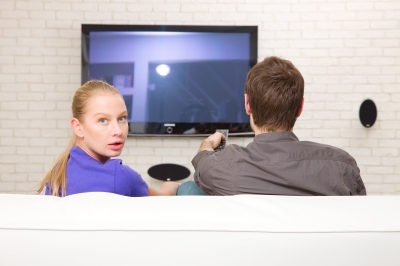 You're going to need to reevaluate your media intake. TV, Internet, and cell phones are a good place to start.
Photo credit: FreeDigitalPhotos.net user Ambro
Don't Quit Just Yet
Unless you have a job waiting for you all lined up, which pays as much as or more than you're making now, don't tell off your boss just yet. Experts and professionals don't agree on how much money you'll need to have banked in order to live off the land between jobs. The one number they do seem to agree upon, however, is as much as humanly possible.
With nothing coming in, even for a few short weeks, you can burn through savings faster than you could imagine - even if you're living lean. If you don't have at least three months' salary saved, you're almost certainly not ready.
Reduce the Necessities
Some monthly bills can be considered "necessities" - especially for a job hunter - even if you don't eat them or live in them. Cell phone and Internet, for example, fall into this category. But those can be pared way back to the most basic plan possible, even if only until you get settled.
Email is free, and so is social media. Let your friends and family know that's where you'll be doing most of your communication for the foreseeable future.
Freeze the Extras
Even if you don't have premium channels, your cable or satellite TV bill can easily be closer to $100 than it is to $50. Even if you're locked into a contract, your cable or satellite company will almost certainly let you freeze your account without much of an explanation. A Netflix account is about eight bucks - and many other similar but more limited services are free. The same goes for any newspaper or satellite radio subscriptions, and recurring gaming fees or apps.
Eliminate the Luxuries
Coffee is something you make at home in a mechanism called a coffee maker. Food is the stuff you buy the ingredients for and make yourself. When trying to save money or reduce expenses, it's the slow bleed that kills you. Big things are budgeted for and, therefore, more manageable. It's the small dribble of money that leaks out through cracks in your budget filed away under "miscellaneous" that sinks otherwise good plans. You simply don't have the luxury of buying luxuries right now.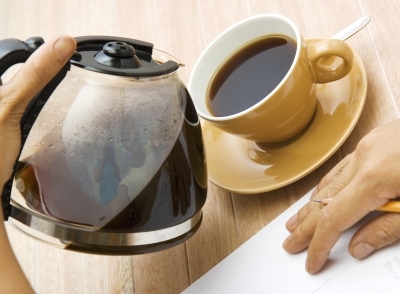 Luxuries like coffee purchased by the cup are a thing of the past.
Photo credit: FreeDigitalPhotos.net user Stuart Miles
Whether it's for a household or a major corporation, budgeting comes down to two things: discipline and consistency. You know the difference between things you want and things you need, and if you don't, the lean times which are right around the corner will make that painfully obvious. Make surviving this transition your new priority, and you'll discover that survival is within your budget.
Andrew Lisa is a freelance writer living in Los Angeles. He writes about personal finance and gives advice on becoming a better budget planner.