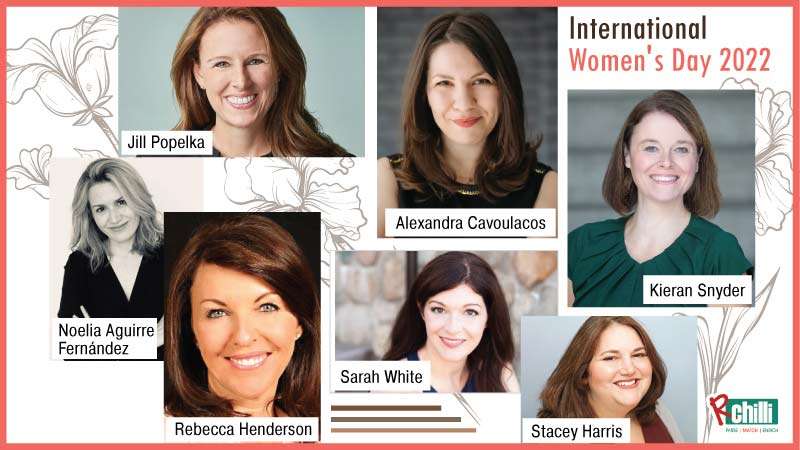 The upcoming International Women's Day theme on 8 March 2022 is "Gender equality now for a sustainable tomorrow." The theme salutes the spirit of women globally working towards a better and sustainable future for the next generation. 
At RChilli, we salute the women for their hard work and dedication. RChilli celebrates the achievements of women, regardless of their nationality, ethnicity, linguistics, culture, or political views.
In addition to focusing on past struggles and triumphs, International Women's Day also inspires us to look ahead at the opportunities and potential that await future generations of women.
Today is the perfect day to honor the women folk and tell them how proud we are of them. Here's our list of the top 7 inspiring women in the HR Tech industry who are changing the world today:
Rebecca Henderson is the CEO of Global Businesses and Executive Board Member of Randstad, recognized as one of the industry's leading thought leaders. With her knowledge and progressive outlook profundity, she ensures that HR and talent leaders can play a prominent role in accelerating growth locally, regionally, and globally.
As a career leader in talent solutions for nearly 20 years, Henderson has demonstrated a commitment to women's advancement and developed Randstad's company-wide mentorship program, which motivates women to share knowledge and promote career advancement. 
Jill Popelka, President at SAP SuccessFactors, is a leader par excellence. Jill drives the long-term product strategy and portfolio to ensure maximum customer success. Jill was previously the Chief Operating Officer of SAP SuccessFactors, where she was responsible for the company's operational responsibilities. 
Before this, Jill was the Head of SAP SuccessFactors Sales for the Asia Pacific and Japan (APJ) and credited with exponential growth for SAP SuccessFactors in APJ. 
Over the past two decades, Jill has been instrumental in developing a solid customer base and achieving business objectives within the SAP ecosystem. 
She is well-versed in the elements crucial to success in adopting SAP solutions, and she enjoys assisting customers in achieving their business objectives.
Stacey Harris is the Managing Partner of Sapient Insights Group and the Chief Research Officer. Stacey oversees industry research projects, such as the prestigious Annual HR Systems Survey and White Paper, in its 24th year.
Since 2007, she has been an innovator in HR practices and technology research, publishing innovative studies on high-impact HR organizations, enterprise HR technologies, and critical practices throughout the talent management spectrum.
Stacey has served as an industry advisor and HR leader for several Fortune 100 companies worldwide, including Sierra-Cedar, Bersin & Associates, and Brandon Hall Group.
She takes center stage with the HR Technology Conference's Top 100 HR Tech Influencers list. She sits on the International Human Resource Information Management (IHRIM) Board of Directors as Vice-Chair. 
Noelia Aguirre Fernández is CEO at Robinlabs.io. Noelia's interest in human behavior and talent recruitment has led her to pursue possible talent-technology synergies throughout her business career. Consequently, she created Robin's platform, making more accessible interactions between employers and potential job seekers.
Her past experiences include a successful stint as Managing Director at AF Recruiters, where she assisted firms in finding suitable personnel. 
Founder and CEO of Textio, Kieran is a force to be reckoned with. After receiving her Ph.D. in linguistics at Penn, Kieran spent a decade with Microsoft and Amazon, producing the world's most influential language products.
Additionally, to create linguistic features like spelling and grammar-checking for more than 100 languages, she was responsible for integrating Bing with Microsoft Windows.
Kieran is an acclaimed author on language and bias at work. Fortune, The New York Times, Slate, and The Washington Post published her work.
Alexandra is Founder & CEO at Meta Angels. A strong sense of entrepreneurship drives Alex, who has a passion for people development and leadership. In addition, she frequently speaks on topics such as entrepreneurship, management, and the future of work.
She is the co-founder of The Muse, a values-based career platform. Fast Company ranked The Muse amongst the 50 Most Innovative Companies globally. 
She co-authored the national bestselling book - The New Rules of Work: The Modern Playbook for Navigating Your Career.
Before founding The Muse, Alex served as a management consultant at McKinsey & Company. Her honors and accolades include:
Inc 15 Women to Watch in Tech

Forbes 30 Under 30, Media - 2015

SmartCEO 2016 Brava Award winner
Sarah White is the Founder & CEO of Aspect43 - an advisory & strategy firm focused on HR & Work Tech. Sarah is leading an effort to research, educate, and build technology companies that focus on the future of work with a team of industry veterans.
Sarah has held top-level positions at global enterprise technology companies throughout her career. Over the past decade, several businesses have named her one of the most influential people in HR tech.
As a regular speaker at HR, business, and technology events, she has been in the spotlight since 2007. She has featured in HR Executive, NBC News, SXSW, Fast Company, Huffington Post, Wall Street Journal, and more.
Closing Words
International Women's Day celebrates and honors the accomplishments of women globally. Having these incredible women leaders in HR Technology will help pave the way to a bright future.