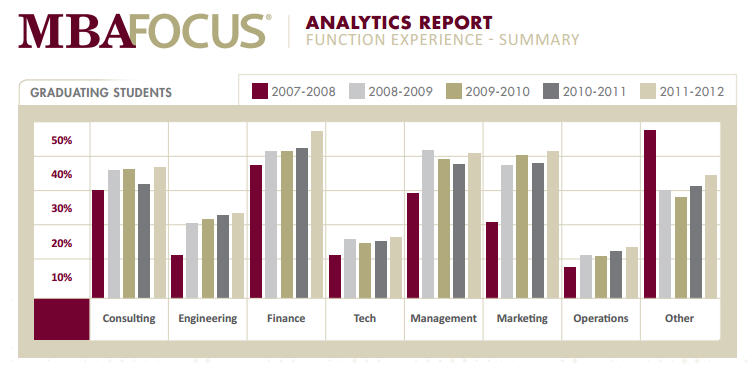 MBA Focus is pleased to present you with the 2011-2012 MBA Student and Alumni Analytics Report. As the exclusive partner to 70+ of the leading graduate business schools, we are able to deliver the most comprehensive profile of graduating and intern MBA students available.
This year's report contains summary and detail information on nearly 78,000 candidates—including more than 28,000 students and nearly 50,000 alumni.
We are happy to report that our list of top-ranked partner schools has also grown since last year, including new programs outside the United States. This year MBA Focus proudly welcomed twelve additional schools to our network. This makes for a truly rich global recruiting resource.
At the beginning of the report you will find summaries and charts of 5-year trends in the candidate profile data for each of the following categories:
Job Function Experience
Job Function Preference
Industry Experience
Industry Preference
Geographic Preference
Work Authorization
Following the summary section are detailed reports for each of the above categories. You will also find additional detail reports on club affiliations, language abilities, licenses and certifications, and more.
Please take some time to review this report. We are certain that you will find the analytical information enlightening—and we are hopeful that it serves as a valuable reference in your current MBA recruiting initiatives.
To request your copy (or view a sample), please visit: https://www.mbafocus.com/analytics.aspx
Questions? Contact us.