Job interviews can be extremely intimidating. After all, a lot is at stake. In some cases, a job interview could hold the key to a secure financial future filled with the type of work one has dreamed of. Feeling nervous is a natural response to this sort of pressure.

With these things in mind, it is important to prepare for job interviews. Appearing confident is a good thing; it shows interviewers that you are poised and sure of your skills.


Interviews can be stressful -- but it is important to appear confident and poised.

The good news is, there are certain questions (or variations of them) that you can almost always count on being asked at an interview. This makes the preparation process a little easier – and the better prepared you are for the interview, the less stressful you will feel.

Use Google

One of the most important things to remember in planning and preparing for a job interview is that hiring managers want to know how you can help the company. Googling the company's name will present you with a wealth of information about the business. You can learn about its mission, current products, top CEOs, and more.

This gives you a chance to see how you fit in and the positive ways you can assist the company. Having this information empowers you to put the right spin on your responses. It gives you an edge over other candidates who are less prepared.

Typical Interview Questions
Question 1: Tell me about yourself.
It should be noted here that there are certain questions that legally cannot be asked by HR personnel. This open-ended question is not intended to extract details of the candidate's life story; in most cases, some things should be left unsaid.
The best response to this question is to answer by describing only those traits and details that are related in some way to the job for which you are interviewing.
Question 2: What are your strengths and weaknesses?
Talking about your strengths should be easy -- but a word of caution: Like other responses, you really do need to be honest about this. Everyone has strengths, so talk about one or two of your true strengths.
Use extreme caution when discussing your weaknesses. Ideally you should discuss a weakness that you have overcome. For instance, maybe you had a habit of leaving work 10 minutes early on Friday evenings so you could beat the traffic, get to the bank, and still get home at your regular time. After a discussion with your supervisor, you realized the impact leaving early made at the office, so you switched to having your checks automatically deposited, and you never left work early again.
Question 3: Tell me about a time you had a problem with a co-worker or a supervisor, and how you handled the problem.
Having good people skills is definitely a plus for any type of work. Consider a situation that was uncomfortable and that was handled well – it had a good outcome. Perhaps you and a co-worker had a misunderstanding, and to make amends you took him out for lunch; since then, the two of you have been good friends.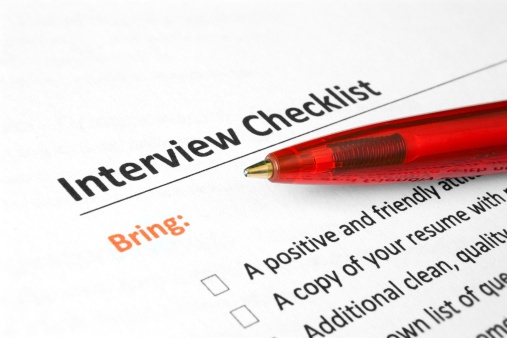 The interviewer will have a checklist; the interviewee will need to be just as prepared.

Preparation Is the Key

Proper planning and preparation is the key to a successful interview. Taking the time to Google the business as well as your own name will give you information about the company and let you know what the interviewers may have found out about you. Armed with that information, you can more easily be prepared to respond to questions about anything negative.

Plan to be positive and comfortable. Practice interview questions before the actual interview. Frame your responses to include information that will reflect positively on the company's values and mission. Know why you are a good fit for the company.

In essence, there are three main tips covered in this article. The first one is, you need to plan and prepare ahead of time for the interview. The second tip focuses on the interview itself; you need to remain confident and poised. The third tip refers to discovering, remembering, and articulating why you are a good fit for the company.

What's your top tip for preparing for an interview?

Debbie Allen is a content writer, online marketer, and blogger with a background in organizational development. She frequently writes about small business management topics, but she also writes about home and garden issues. A recent article by Debbie focuses on how to choose a quality roofing contractor.