Engaging with current university students and newly graduated students can be tricky. As students begin to apply to different work programs, you want to make sure that your company is at the top of their minds. Other companies are trying new, innovative digital marketing tactics to capture the attention of top talent, and you want to be sure that your outreach campaign stands out among the rest. But, how can you do this? The answer is through utilizing text messaging for college recruitment.
SMS messaging is an excellent tool for company recruiters to remind students of upcoming career events, notify students of open job positions, and give them the next steps they need to complete the application process. Turn over a new leaf and enhance your recruiting campaign with these innovative approaches.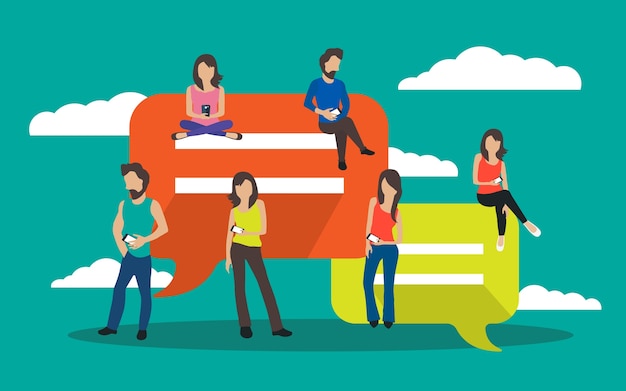 Why Recruiters Need to Connect with Students via Text Messaging
Did you know that the average open rate for a text messaging campaign is up to 98%? (On the contrary, the average open rate for an email in an email campaign is 20%.) Instead of focusing your efforts on emails, it's time to pivot your strategy and shine a spotlight on text.
Even before COVID-19 began to affect schools and universities worldwide, many students chose to conduct their studies using smartphones and tablets . This means running a text-recruiting campaign for college recruitment is the way to go if you want your recruiting outreach message to be seen.
So, what steps can you take to build a conversion-worthy text messaging campaign? Here are some of the top tips and tricks on how you can leverage text messaging to reach out to fresh, new talent.
SMS Text Messaging Tips and Tricks for College Recruiters
SMS Texting has become a standard in the recruiting arena. A majority of students would prefer to use text compared to emails, making building relations with students easier. Let's dive into these tips to help you communicate more effectively with students and help your brand stand out.
Make it Easy to Opt-In
Signing up for text message updates from a company shouldn't be complicated. You can make it easy for students to get text message updates by posting an opt-in form on social media or printing a QR code on pamphlets at a college job fair. This makes the opt-in process simple and quick for those students who are on the go.
Keep it Short and Sweet
You have about 3 seconds to capture a prospective hire's attention before they exit out of the text. Be sure to keep the message short and to the point. Additionally, arrange your main points to fit the message preview section of a smartphone neatly. Even if the reader is too busy, you will still get your point across quickly.
Have a Clear Call to Action
Your call-to-action in your text campaign needs to be clear and concise. You should never have your recipient on the other end have to guess what the message is about. Use action words like "attend," "apply," or "visit" to get them to respond in the way you want them to.
Add a Link to Your Text
Another great way to get the recipient to engage with your text is to add a shortened link at the end of the message. That way, recipients can easily take specific action with a single click. The best part about using a shortened link in your text is that you can track the URL click-through rate in real-time! Now, you will have data to back up the performance of the campaign.
Pro Tip: Make sure that your website content, especially public data and reading resources, is mobile-friendly. By having a responsive design, your viewers can easily find what they are looking for without running into any problems.
Be Mindful of the Timing and Quantity of Your SMS messages
Because the open rate for SMS messaging is much higher than the email open rate, your candidates will, without a doubt, notice if you send them messages too frequently. Although recruiters want to get as much information about their campaign out as possible, aggressively sending out texts can get your SMS marked as spam. That is why it is crucial to be mindful of the time and amount of SMS you send out. The timing and quantity will usually depend on who your target candidates are and your business's identity.
For example, if your targeted candidates are still enrolling in a university, you will need to be mindful when sending them an SMS during weekdays. Some sources suggest the best time to send SMS is between 9:00 a.m and 12 p.m during weekdays. However, some campuses have stringent cell phone rules. Having a phone ring during a lecture is not desirable for both the sender and the receiver.
Track the Results and Tweak
Lastly, you want to track the results of your college recruiting campaign. What does the analytics say about your text messages? Was it effective? Did recipients take action? If your text didn't get as many conversions as you had hoped, you could A/B different text to see which performs better. Try switching up the language in the text or alter your sending time to see which message is more compelling compared to others.
Get More Students to Apply to Your Company with SMS Text Messaging
Many companies are utilizing text message campaigns to attract new talent. If your business isn't, you might be missing out on potential top talent.
Now more than ever, it's critical that you meet your target audience on a platform that they are already using. And, in this instance, your target audience is graduate and undergraduate students. Students are constantly on their phones checking for new text messages. Your recruiting messages can easily be displayed to them using an SMS recruiting software that allows you to personalize texts, automate your SMS campaign, and measure the campaign in real-time.
Are you ready to recruit anywhere, anytime? Don't let prospective new hires slip through the cracks. See how our Text Recruiting Solution can reach more top student talent for your company!