Cutting-edge technologies are breathing new life into the modern recruiting market. The two most favourite systems for leading talent acquisition professionals are Applicant tracking systems (ATS) and Candidates Relationship Management solutions (CRM). As a result, Applicantstack pointed out that 98% of 500 Fortune corporations plus about 66% of large-scale businesses recruit with an ATS.
ATSs and recruiting CRMs have turned into handy tools for talent acquisition professionals . However, there are still some recruiting teams that share the mindset that one solution is already enough. Although using only one specific solution is entirely normal, by not trying out the combined force of an ATS and a CRM, you might be missing out on some fantastic benefits unique to this cooperation.
Our article about recruiting CRM vs ATS will explain how these two unique systems work separately and as a combination to optimize your recruiting/hiring processes.
What Are ATS and Recruiting CRM?
Applicant Tracking System (ATS)
An applicant tracking system, by definition, is a software that creates a repository of applicants and tracks applicant's status throughout the recruiting process. An ATS usually manages candidates by job requisitions. Only when a job position is opened, and someone submits the application for that job can he/she enter into your ATS. From there, you use your ATS database to look for suitable applications for screening, evaluation, and selection.
One of the biggest benefits an ATS brings is its automation and the reduction of manual workload. This means no more searching endless spreadsheets and more time to screen and select your most suitable candidates . Once an application is submitted, an ATS can capture this information and organize it in the database. An applicant tracking system also does the work of extracting resumes. It makes it easier for you to perform a keyword to screen candidates faster from the huge application database. However, there is a small risk of duplicating profiles in your ATS if duplicate detection and management are not done correctly. Target Recruit suggested using proper tools from a third party to prevent and manage duplicate creation, avoiding future complications.
What's more, the matter of equality in employment remains problematic within different job markets. After years and years of growth, countries worldwide have passed several sets of laws and policies to help reduce discrimination at work, namely the Equality Act 2010 in the UK or the USA's Civil Rights Act of 1964.
Users can use an ATS to monitor your business's compliance with various workplace policies, especially those aiming to preserve Diversity and inclusion. For example, an ATS can monitor staff demographics such as age, sex, and ethnicity to comply with the EEO-1 form . This process can also be done anonymously to keep candidates' personal information private.
Candidate Relationship Management (CRM)
A candidate relationship management system is a recruiting technology that helps to form a vast pool of active and passive candidates, including rejected ones. The vital function of a recruiting CRM is to develop healthy relationships with all of your prospective candidates and keep them available for any open vacancy. Essentially, one doesn't need to apply for any specific job position for them to enter into your CRM. They just need to show interest in a future career at your company or affiliate with your firm through a previous program like a networking event or an internship. For this reason, you always have a considerably proactive and diverse talent pool with people at different stages of the pre-hiring process. A CRM shows you the most potential candidates in your talent pool by choosing some filters according to your specifications, making it lightning-fast to start sourcing when you have an opening requisition.
In addition, brand marketing continues to be one of the most important factors to attract talent. Thus, the candidate's experience with your company should be taken into account. As the name suggests, a recruiting CRM can generate reports on how engaged your candidates are. Recruiting CRM users can identify both strong and weak touches in their recruiting process through gauging interaction. Based on this valuable information, talent acquisition professionals can tailor strategies for different candidates, keeping them satisfied and interested in working at your business.
The Differences Between an ATS and a Recruiting CRM
In simple words, a recruiting CRM is best used to nurture your recruiting connections, attracting passive candidates ahead of demand. When a role is open (especially if it's a hard-to-fill role), it commonly takes a long time to find the most suitable candidates for that position.
An ATS can only govern candidates that have already applied and are in the system. But, thanks to a CRM system, there is now a proactive pipeline of talents for you to contact. An applicant tracking system bears a different mission: enhancing what comes after recruitment - the hiring process. An ATS can lighten the amount of administrative work, thus improving the three essential metrics: time to hire, the total cost of hiring and quality of hire.
An ATS and a recruiting CRM system handle different tasks but in a reciprocal way. Their functionalities supplement and complete each other. Observing how well they work separately strengthens the notions of them working together as a whole. In fact, opposite to the majority's common thinking, businesses can significantly benefit from integrating these two systems.
ATS vs Recruiting CRM: When Do You Need Them Both?
Check out these situations and compare them with your current recruiting status. You may need a combination of both an ATS and a recruiting CRM if :
#1: You Need an Outright Array of Your Applicants' Information
Technically, having an ATS and a recruiting CRM to operate separately means you also have two sets of databases. Things might get a little complicated and time-consuming for you to recapture specific information. The main problem is candidate profile duplication. An integration of recruiting CRM vs ATS can save you plenty of time by also integrating databases. We all know an ATS can scan and organize applications and comprehensively display them for evaluation. However, you can also track down any applicant's career history using a CRM, not excluding their pre-hiring journey. These pieces of information will support your decision-making throughout the hiring stages. When the complete career path of your applicant is transparent, you will find it a lot more effortless to conduct compelling interviews by asking the right questions. This helps reduce time-to-hire and fast-forward to a successful hire.
#2: You Want to Fill up Open Roles With the Best Talents Quickly
As reported by AIHR Academy , if you wish to employ some productive data-driven recruitment strategies, it is favourable that you concentrate on crucial recruitment metrics, including time to hire and quality of hire. An ATS can narrow down appropriate applicants for a position, yet there might exist some missing out on better matches. One of the main shortcomings of an ATS is that it stores and retrieves only applications for specific advertised vacancies. As a result, it will overlook passive candidates or yet-to-apply ones. On the other hand, a recruiting CRM system has a lot more audiences in its talent pool. It can fetch information of vetted candidates, such as "silver medalists" and past rejected candidates. A more comprehensive range of selection promises a better chance of hiring the right person for the job. This guarantees a quality selection amongst newcomers and proven qualified candidates.
#3: You Want to Increase the Reputation of Your Brand
An ATS barely has any tools to support brand marketing matters. A CRM software can help you market to potential candidates, keeping prospective, existing, and past candidates engaged and boosting your brand reputation. A recruiting CRM measures how engaged your talent pipeline is based on this measurement. Talent acquisition professionals can create strategies to deepen the relationships with their candidates, keeping your employer's brand top of candidates' minds. In this manner, candidates themselves may deliberately spread the good words to swell up your brand reliability. Approximately 69% of underemployed people would instead not take the position if the offering company doesn't possess such a good reputation. Looking on the bright side, an ATS does optimize your recruiting process. In addition, it helps reduce your manual workload, thus providing you with more available time for your team to utilize a CRM to boost reputation.
#4: You Demand Analytics and Reports
Generating analytics and reports are a part of both ATS and CRM's functionalities. Reports from these systems display how effective your hiring processes are, time-wise and cost-wise. For instance, after every successful hire, you can input data into the system to analyze which sources work more efficiently than the rest. Or, when operating referral tracking, you can easily track down which referral programs are gaining positive results. Plus, candidate experience analytics from a CRM system tells you if your candidates are engaged or not during the recruitment procedures. Workforce.com has made it clear that, besides cost-per-hire or hire-by-source date, an ATS software can also track vital data to report on legal matters. For example, according to Title VII of the Civil Rights Act of 1964 , employers in the US, with specific personnel conditions, have to conduct a demographic report called EEO-1 based on their employees' race/ethnicity and gender. For this reason, some ATS applications have a built-in function to generate EEO-1 reports and make your life easier. A recruiting CRM system allows us to extract candidate engagement data. Reports made with this information are beneficial for your team to work up recruitment strategies. CRM software also performs source and conversion rate analytics. Together with sourcing reports from your ATS, this process gives you a comprehensive insight into your hiring efficiency.
#5: Your Top Priority Is to Cover the Talent Funnel Completely
The talent acquisition funnel represents a generalization of any candidate's journey through your recruiting and hiring process. There are different versions of this funnel consisting of similar and other stages. PageUp has recently unveiled their perception of this concept, introducing not four nor five but six necessary stages. The latter is divided into two main sections: HR technology (an ATS or a recruiting CRM) will handle their corresponding areas.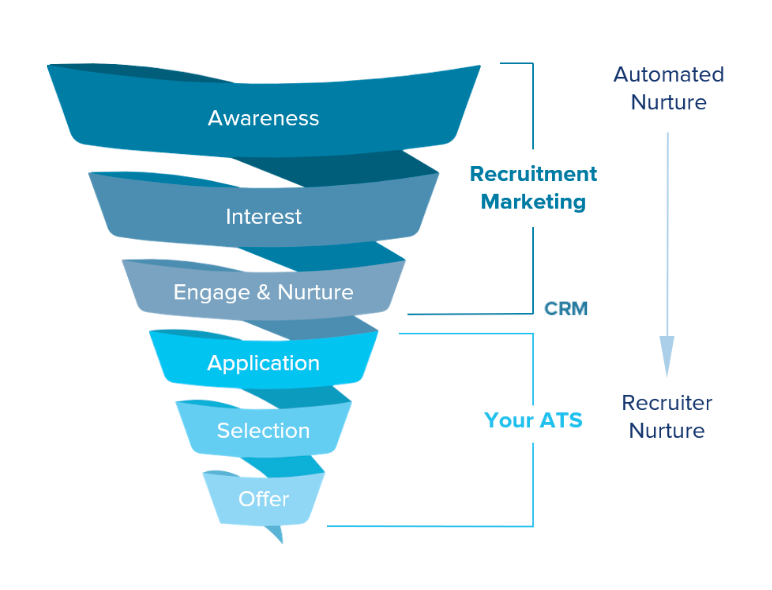 Source: PageUp
As shown by the graph, a recruiting CRM is in charge of the first section - recruitment marketing. Thanks to its core ability to maintain a healthy relationship with prospective candidates. This first section includes Awareness, Interest, and Engage & Nurture. In the meantime, an ATS takes care of the second part - recruiting (from Application, through Selection, to Offer). Once you have gained your candidates' attention using your CRM, an ATS can step in to free you from the hassles of administrative work. With the help of recruiting CRM vs ATS, you can seamlessly cover the talent acquisition funnel, keeping your candidates constantly in good experience throughout recruiting/hiring processes at your company.
How Can You Make ATS & CRM Integration Happen?
Software implementation and integration pose a different matter of decision-making for most businesses: build or buy? Here are some prevalent options for your consideration.
#1: A Do-It-Yourself Whole System
The SMB Applicant Tracking System Buyers' Report 2020 indicates that almost 50% of corporations expressed their dissatisfaction with the current systems and hoped to switch providers. Thus, several companies decide to have an in-house, self-developed ATS for their protocols and the universal recruitment code. Then, a CRM system, domestically built as well, comes as an extension. Let's take the case of Apple as an example. This giant of the information technology industry creates its own ATS system. Job seekers can wander around on the Apple career website to look at available positions, then log in with an Apple ID to submit their résumés. Notwithstanding, experts have revealed quite a few problems are rising from this particular method. The most common issues are the necessary resources committed to maintaining and upgrading the homegrown software annually and the inability to stay updated with the latest best practices for recruiting solutions.
#2: A Triad Integration
You can choose to buy an ATS from a suitable provider and a recruiting CRM from another reliable firm. This is the most common practice since many ATSs contain open APIs, making it a lot easier for software developers to make the integration happen. A prime example is a way they put together Oracle Taleo's ATS with IntraWorlds' CRM extension . The ATS software from Oracle focuses on active candidates, reduces manual work and provides advanced sourcing tools. Meanwhile, IntraWorlds' recruiting CRM (now a part of PeoplePath) attracts passive candidates and second-best candidates to increase the conversion rate.
#3: A Complete Package
Another approach to recruiting CRM vs ATS integration is that you get both solutions from a single firm. This means you only pay one service provider for the functionality of two systems performing under an only interface. Teamtailor , Rakuna's partner, is one of the companies that offer this whole package solution. With Teamtailor, one can design an appealing career site "tailored" to your targeted candidates. Users can drag and drop contents to form their desired page without breaking a sweat, even with untrained hands. Teamtailor created their products with the "diversity and inclusion" values in mind. The ATS can facilitate blind hiring by hiding sensitive information that can potentially cause bias when hiring, such as name, age, gender, etc. Writing published by Talent Tech Labs pointed out another reason why getting a recruiting CRM and ATS from the same company is a win. It may happen to all of you that departments other than TA acquisitions need access to this system, namely the HR department. To ensure everything is transparent and comprehensive, integration from a single firm means one-time login for ATS and CRM. This also integrates databases, so the information is translucent and unified, preventing any unneeded miscommunication.
#4: Double-check on your needs
The vision of optimizing your recruitment with the integration of recruiting CRM and ATS sounds profitable. And yet, it might be a burden afterwards if you don't consider things before coming to a decision.
We know that ATSs have been an effective stand-alone option for decades, and now recruiting CRMs have come to the field only to make things even better. But what if that is too much for your business? ATS software is generally economical cost-wise, which brings limitations to its functionalities. In case you only own a small business or you're working as an HR recruiter, an ATS may be enough to lighten your workload. It will help decrease manual input, tracking, and data management, saving more time for other essential tasks.
A recruiting CRM can be seen as a bigger investment, but it conveys a more extensive functionality and puts it at your disposal. Providing that your company is already at a bigger scale or has the potential to expand, make sure this integration is done correctly and to a reasonable extent. If you are small but expect to grow fast and need a ready pipeline, adding a CRM would also be a good idea. When considering your needs, you may want to clarify what features of both systems your organization needs the most, which ones are less often used but still crucial, and which should not be included, or else it might cause technical complications.
Planning the exact functionality for your software advancement optimizes your future work, if not to mention the amount of time and capital investment saved. However, having more than enough is not always advantageous. In this very situation, that may appear to be a waste of time and create unnecessary technical issues.
To Conclude...
We have gone through some fantastic functions you can benefit from a recruiting CRM vs ATS integration, which seems promising and worth a try. And yet, one still has to face particular worrying possibilities if one does not operate thorough considerations. We hope our analysis has provided the critical information for you to make your own decision. Also, technology upgrades are costly and sometimes risky, but this integration can be a great work advancement. If you still wonder if recruiting CRM software is necessary to complement your ATS, check out our article on candidate relationship management facts.
Illustrations in this post provided by: FreePik
Check out this post on main fanpage: https://bit.ly/3jdm62p